Santander / Abbey: sources of value
Santander's management was primarily focused on acquiring Abbey assets. Abbey provided a leading position in the UK mortgage market, combined with a strong distribution network, an established brand and a wide customer base. Santander saw a value creating opportunity based on exploiting the untapped potential of Abbey assets by implementing Banco Santander's commercial and technological best practices to Abbey's banking operations. Abbey increased the size of Grupo Santander significantly. Using 2003 figures as a base, the loan book almost doubled, and assets grew by 76%. Nevertheless the contribution to profits was much lower (26-35%), which points out the potential for improving the profitability of Abbey assets.
As far as Abbey's high quality customer base is concerned, relationships with customers were under exploited. 7.5 million out of the 13 million Abbey customers at the moment of the acquisition utilized only one product. While the average number of products per customer at market leader Lloyds TSB stood at 2.07, Abbey's amounted only to is 1.65. Santander saw here a potential for increased cross-selling.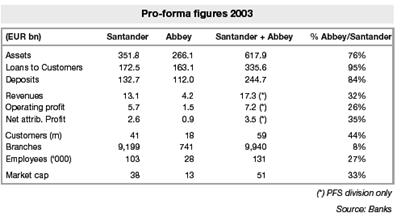 i. Cost Synergies
Upon announcement of the acquisition, Banco Santander stated its aim to achieve €450 million of pre-tax cost savings by 2007. As can be concluded from the sector benchmark displayed in the table below, Abbey did not compare well with other UK competitors: it was significantly less efficient than other UK banks with high IT costs as a percentage of total costs and high costs per employee. Santander saw here a potential for improvement and wanted to increase Abbey's efficiency by implementing its best practices.
In order to realize the projected cost savings, Santander focused initially on IT, customer operations, customer sales and head office, while in a second phase (which will be concluded in 2007) it will implement the IT platform Partenon. The latter phase will allow Santander to close two of Abbey's three IT operation centers.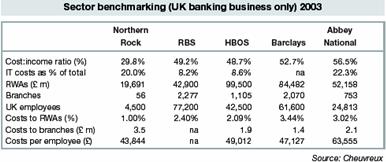 The first stage is a tune-up aimed at reviving Abbey business by streamlining processes and range of products offered with a focus on increasing market share. In the second stage Santander wants to leverage its more advanced Partenon IT core banking system to restructure the current technology infrastructure and core systems of Abbey. The implementation will achieve greater efficiency in costs and output by reducing the size of middle and back office processing areas and by raising branch productivity while providing greater customer value.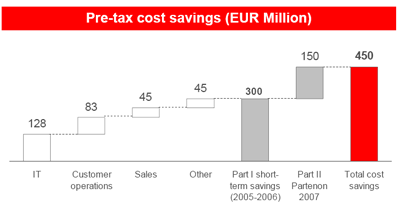 ii. Revenue Synergies
Santander's target for revenue synergies amounted to €220m by 2007 through the expansion of Abbey's franchise business in areas such as insurance products, consumer loans and SMEs. The volume of products per customer for Abbey is far less than its UK counterparts, therefore there is a potential to increase revenue by accelerating product and service outreach in the market. Santander aimed at achieving higher sales by, for instance, cross selling life insurance products to customers who acquire mortgages at Abbey branches or developing consumer lending building on the existing customer base.
In addition, Santander will be able to realize revenue synergies through the introduction of more competitive products that offer greater value for customers. Santander will then be able to focus on marketing campaigns that specifically target products that are related to Abbey's core mortgage lending operation. Another key to make revenue synergies come to fruition is the overhaul of legacy IT systems to newer technologies that allow faster loan decisions and more sophisticated customer targeting.
Banco Santander believes that the estimated contribution to profit before tax from revenue benefits will occur in the following key areas: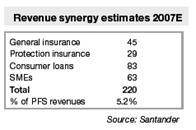 "Spain: Santander 11 November 2004 Earning revision", Cheuvreux analyst report.
"Getting back to the Abbey habit", Clive Horwood, www.euromoney.com, July 2005.